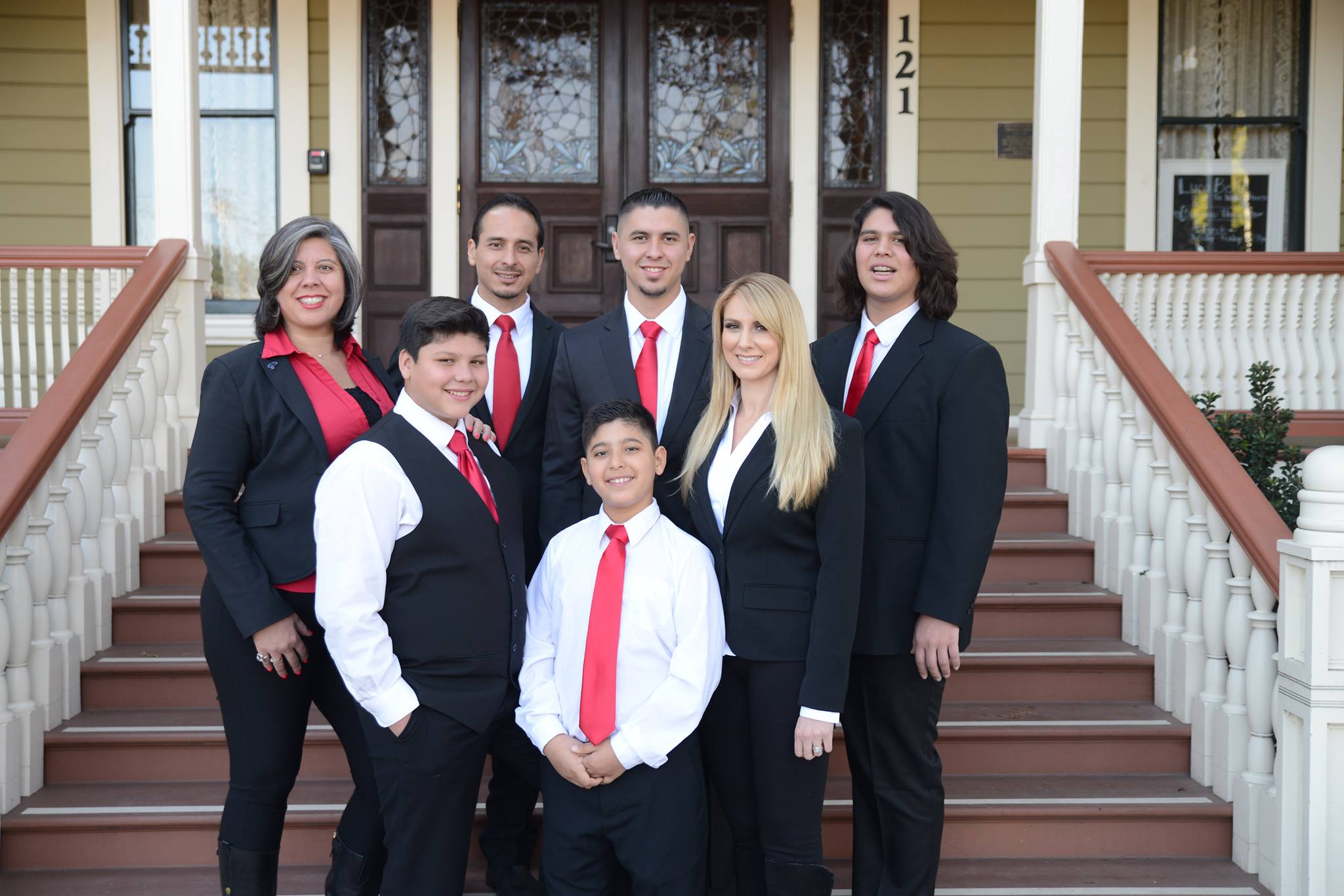 It's a Family affair!
Pictured - from left to right
(back) Lori Alvarez, Eric Alvarez, Nathan Alvarez, Nicholas Alvarez
(front) Nolan Alvarez, Nevan Alvarez, Amy Cruz
Owner/Operator, Listing Specialist, Buying Specialist - Lori Alvarez
Lori Alvarez is the CEO of Lori Alvarez & Team, KW Realty East Foothills who has been building her family legacy since February 2007. Where by the blessings and graces of God she has taken her team to be #1 TOP AGENT in Listing and / or Sales Agent for 2011/2012/2013/2014/2015 in her Glendora office. She uses the MREA (Millionaire Real Estate Agent) models as an operations manual, many other amazing mentors, and her faith in God! Lori Alvarez can be reached by e-mail at [email protected] OR friend me on facebook OR Tweets available on Twitter! However my favorite is by phone at 909-227-4196! Rock with us on Youtube - click here! To check out Lori's Listings click here!
Executive Assistant - Lilliana Kagan
Lilliana Kagan manages every aspect of all transactions from start to finish. Having closed over 500 files in her career thus far, she is well versed on what it requires to take the transaction to the finish line with a win-win outcome. Her responsibilities include maintaining all marketing and keeping the clients well educated and informed throughout the transaction.
Buyers Agent / Realtor - Amy Cruz
Amy Cruz (my sister) has been with the company since 2012 starting off as an intern then joining the team full time as a licensed Realtor in 2013. Her vast positive energy and her experience has brought an added dimension to the team. She assists Lori with maintaining our buyers. She also is part of their transactions to the closing. She also loves to spend time with her hubby and family which includes their pups and her friends. On her off time you will find her at the gym or walking the pups.
Realtor / Licensed Assitant - Nathan Alvarez
Nathan Alvarez has been with the company since he was about 10 years old! Yes he is our son and he has been supporting us ever since he was a tyke. He is now a full time licensed Realtor and assists in every way possible. He also enjoys his time with his girlfriend, friends, and playing sports.

Short Sales Managers - Dorothy Cole w/ DC Processing
Dorothy Cole with DC Processing brings extensive customer service and real estate experience to the short sales department. Their main focus is to manage the process and be the point of contact between Lori and the bank negotiator.
Contracts Manager/Property Manager - (Currently Hiring)
Lori Alvarez currently manages the day-to-day maintenance of our rental properties and finds quality tenants for our owners.
**This position is currently hiring! Contact Lori Alvarez for more info: [email protected]
Escrow Team – Laurie Misner w/ College Escrow
Laurie Misner at College Escrow either is a licensed escrow officer with over 20 years experience in the real estate industry. They uses their knowledge and professionalism to ensure our escrows are completed in a timely fashion, with nothing left undone.
Transaction Coordinator – Cathy Alvarez
Cathy Alvarez (has a cool last name like ours - though no blood relation) She will handle your transaction during the escrow process. Her focus is on processing your file to assure no detail goes unattended.
The Family
Eric Alvarez – Lori's hubby and CFO helps maintain everything else that is necessary to keep the business operating in a healthy way. He also installs elevators for Schindler Elevator. His hobbies include; his wife and what she likes to do, his sons and supporting them, golf, music, and keeps busy volunteering in the church.

Nicholas Alvarez - Son just graduated San Dimas high school. Is working with Lori Alvarez & Team part time as an assistant and is attending college in the fall. He loves drama and singing!

Nolan Alvarez - currently attending San Dimas highschool and plays football for the SDHS Saints! He loves school and hanging out with his buddies and helping us get homes sold! He has a smile that melts your heart!

Nevan Alvarez - Currently attending Lone Hill Middle School and plays the trumpet for the band over there. He enjoys sports and spending time with his brothers, friends, and helping us in the office, we call him "the Nevan-nator." He staples like no other!

David "Bo" Lockwood - he is the cousin who virtually handles the website details for us! He brings ample experience and knowledge through all his education! With his expertise and Keller Williams systems your property will be featured on more than 250+ websites out in the world wide web! In his free time he hangs out with his beautiful family.
As you see it truly is a family affair! Our family is dedicated to help your family get your home sold or bought at the best possible price. We will do our best every time and that is what has made us #1 family team in our office, year after year! Call us today at 909-227-4196 for a private consultation on selling or buying. We look forward to helping your family make the best decision for your family and your real estate portfolio. Be blessed & bless someone else.
Download my FREE app now and search real estate on the go! Download here and enter AGENT CODE KW2NUB5BP & be sure to call us today to help you get that house sold!
Lori Alvarez ~ Real Estate Consultant / CEO
direct: 909-227-4196 ~ email: [email protected] ~ BRE 01794115

Lilli Kagan ~ Administration Assistant
direct: 909-267-7323 ~ email: [email protected]

Amy Cruz ~ Realtor / Lead Buyer Specialist;
direct: 626-625-2732 ~ email: [email protected] ~ BRE 01974952

Nathan Alvarez ~ Realtor / Buyer Specialist;
direct: 909-730-7535 ~ email: [email protected]